Tolo (also known as "Tolon") is situated on the Peloponnese, about 10 km in south-east direction from Nauplia, the first capital of Greece. A lot of tourist parties visit Tolo as a seaside resort when travelling along the usual tourist route from Athens to Corinth, Mycenae, Nauplia and to the famous antique theatre of Epidaurans, which can be reached from Tolo within half an hour by car. Tolo, originally a fishing village blessed with a favourable location, is nowadays completely developed for tourist needs.

The house is beautifully situated at the seaside road, about in the middle of the broad main beach that is not available for building, separated from the beach only by the seaside road.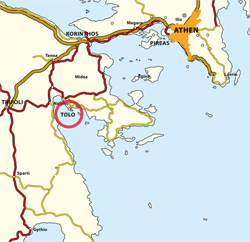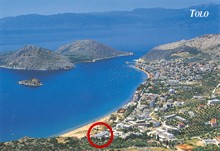 Athens can be reached in about 2 to 2.5 hours (about 150 km) via a highway starting from Argos (Argos is about 23 km from Tolo).
Buses run every hour between Athens and Tolo. In addition, there is a railway between Athens and Nauplia. In summer, Tolo can be reached from Athens by hydrofoil. From Tolo to Patras, where the ferry terminal to Italy is, the time for the journey is about 2.5 hours (about 210 km).